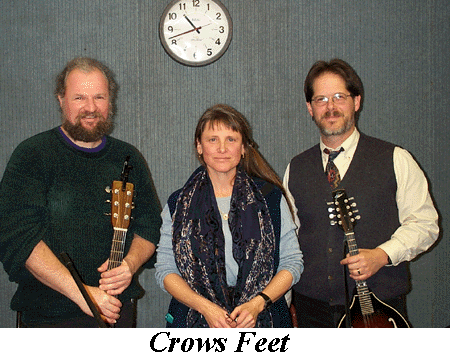 We welcomed the New Haven-area trio Crow's Feet for the first hour and then some. They were appearing the next week at the Milford (CT) Fine Arts Council's Performance Coffeehouse. It was their first visit to "Profiles in Folk" and a splendid 65-plus minutes of talk and music. Crow's Feet is Anna Castleman, Frank Panzarella and Glenn Stevens.
Mad Agnes (Margo Hennebach, Adrienne Jones and Mark Saunders) was planning on joining us in the second hour but deferred because it appeared the season's first major snowstorm was going to cancel their local concert the next night (which, indeed, happened). So, for the remainder of the evening we programmed a few more trios and finished the night with two early recordings from Idle Rumours and Madwoman In The Attic, trios that featured Margo and Adrienne.
My thanks to Abe Letteleir and Paul Litwinovich, WSHU's engineers, for mixing the sound for the night.
Crow's Feet: Live In WSHU's Studio A
Live: "Never Come Back"
Live: "Whisper"
Live: "Freight Train"
CD: "'Til Something Better"
Live: "Drivin'"
Live: "Things We Said Today"
CD: "Say Goodbye"

The debut album by Crow's Feet is titled "Live At Phil's". The trio can be reached at www.crowsfeetmusic.com
The debut album by Crow's Feet is titled "Live At Phil's". The trio can be reached at www.crowsfeetmusic.com

Second Hour:

Artist, "Title", Album, Label

Ben Edom, "Birlinn Latharna/The Pure Drop/The Flax In Bloom", Spindrift, Celtic Soul

----------

Auldridge, Bennett & Gaudreau, "Blue Lonesome Wind", "City Of Lost Souls", "Sweet Prairie Hay", Blue

Lonesome Wind, Rebel, ,

----------

Hazel Dickens, Carol Elizabeth Jones & Ginny Hawker, "Forsaken Lover", "Lay Me To Rest", "Not A Word

Of That Be Said", Heart Of A Singer, Rounder,

----------

Idle Rumours, "There Is My Love", Fast Folk Musical Magazine, November 1986

Madwoman In The Attic, "Oconee", Hoot! The Folk Next Door 3, Uh-Oh