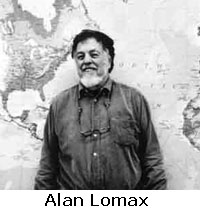 This is a modest program in tribute to the monumental contributions made to folk music by the noted ethnomusicologist Alan Lomax, who died at age 87 on July 19.
The last 20 minutes of the show offered a "last chorus" as well to the gifted and amazingly creative songwriter Dave Carter who died suddenly from a heart attack following a morning jog the same day in Massachusetts. Carter was 49 and was half of the talented duo of Dave Carter and Tracy Grammer, which had rapidly been gaining popularity during the past two years.
Lomax, who until his death remained a traditionalist with little regard for more popular mainstream music, exerted a profound influence on American and global folk music. In the words of Jon Pareles, a music critic for The New York Times, he was "a musicologist, author, disc jockey, singer, photographer, talent scout, filmmaker, concert and recording producer and television host. He did whatever was necessary to preserve traditional music and take it to a wider audience."
Rounder Records, working with the Lomax Archive in New York City, has embarked on The Lomax Collection, the issuing of more than 100 compact discs from Lomax's immense treasure of field and studio recordings.
Artist, "Title", Album, Label

Alan Lomax, "Speaking", The Alan Lomax Collection Sampler, Rounder

Ervin Webb & Group, "I'm Going Home", The Alan Lomax Collection Sampler, Rounder

Spencer Moore, "The Girl I Left Behind", The Alan Lomax Collection Sampler, Rounder

Bessie Jones & Group, "The Titanic", The Alan Lomax Collection Sampler, Rounder

----------

Nashville Washboard Band, "Soldier's Joy", Treasury Of Library Of Congress Field Recordings, Rounder

W. H. Stepp, "Bonaparte's Retreat", Treasury Of Library Of Congress Field Recordings, Rounder

E.C. Ball, "Pretty Polly", Treasury Of Library Of Congress Field Recordings, Rounder

Turner Junior Johnson, "When I Lay My Burden Down", Treasury Of Library Of Congress Field,

Recordings, Rounder, ,

Bozie Sturdevant, "Ain't No Grave Can Hold My Body Down", Treasury Of Library Of Congress Field,

Recordings, Rounder, ,

----------

Field Recordings Done With His Father, John A. Lomax

Mose (Clear Rock) Platt, "Old Rattler", Negro Work Songs And Calls, Rounder

Prison Group, "Go Down Old Hannah", Negro Work Songs And Calls, Rounder

Jessie Bradley & Group, "Hammer Ring", Negro Work Songs And Calls, Rounder

"Lightning" & Group, "I Wonder What's The Matter", Negro Work Songs And Calls, Rounder

----------

Texas Gladden, "One Morning In May", Treasury Of Library Of Congress Field Recordings, Rounder

Pete Steele, "Coal Creek March" Treasury Of Library Of Congress Field Recordings, Rounder,

Woody Guthrie, "The Gypsy Davy", Treasury Of Library Of Congress Field Recordings, Rounder

Sonny Terry, "Lost John", Treasury Of Library Of Congress Field Recordings, Rounder

----------

Selected songs and discussion from:

Woody Guthrie, The Library Of Congress Recordings, Boxed Set, Elektra

----------

Annie Nicholson, "The Mulad, The Mulad", The Alan Lomax Collection Sampler, Rounder

Flora McNeill, "The Sister's Lament", The Alan Lomax Collection Sampler, Rounder

Ewan MacColl, "The Four Loom Weaver", The Alan Lomax Collection Sampler, Rounder

Bob & Ron Cooper, "The Jovial Tradesman", The Alan Lomax Collection Sampler, Rounder

----------

Dave Carter & Tracy Grammer, "When I Go", "Little Liza Jane", When I Go, Independent

Dave Carter & Tracy Grammer, "Tanglewood Tree", Tanglewood Tree, Signature Sounds

Dave Carter & Tracy Grammer, "41 Thunderer", Drum Hat Buddha, Signature Sounds
There is much more on Alan Lomax at www.alan-lomax.com
For more information on Dave Carter, www.daveandtracy.com