We welcome back to Profiles in Folk this week Connecticut singer-songwriter Lara Herscovitch, whose second album ("There", co-produced with Pierce Campbell on La Rama Records) is set for release this week. The occasion was a much more joyous one than her first visit to the show with a group of singer/songwriters only days after the horrific terrorist attacks on America in 2001.
Lara's a remarkable performer. She's only been performing professionally for a few years, but already she's carved a special niche in the Connecticut folk scene with her captivating blend of folk, pop and Latin music and, most important, many of her songs have a socially-conscience edge to them, a vital ingredient missing in many of today's singer/songwriters.
We spent a quite enjoyable hour and 15 minutes in the studio with Lara and Michael Benson, her percussionist (who also hosts an occasional music show at WPKN-FM down the road from us). A tip of the hat again to WSHU Chief Engineer Paul Litwinovich, who engineered the program and had a marvelous picture of Lara up on Web only minutes after the program began.
You can check out her two albums ("Sin Tierra" and "There") and find out more about Lara at: www.laramarecords.com
We closed the night with some guitar music from a new reissue of the late John Fahey's wizardry and selections from Toronto's Rick Fielding, who was appearing the next night in Branford.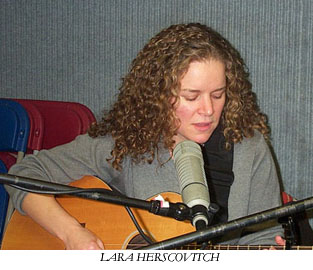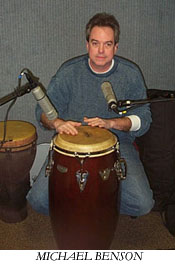 Listen to The live portion show, November 8th.
Lara Herscovitch Live In WSHU's Studio A
Live: "Olvidandote"
Live: "There"
CD: "Tequila Over Turkey" (from "There")
Live: "Take Your Time"
CD: "Para Siempre" (from "There")
Live: " Leave It In The Landfill"
CD: "I'd Do Anything" (Lionel Bart from "Oliver")

Artist, "Title", Album, Label

John Fahey, "Sunflower River Blues", "America", "Desperate Man Blues", The Best of John Fahey/1959-1977

----------

Rick Fielding, "Old Time Riverman", Lifeline, Folk-Legacy

Rick Fielding, "Patrick Spencer", This One's The Dreamer, Borealis

Rick Fielding, "Voices Of Struggle", Lifeline, Folk-Legacy