Live From STUDIO A!
10 p.m. to Midnight Host: Steve Winters
Robert Messore & Shawn Persinger Live In WSHU's Studio A
This was a fun night of great guitar music. Irrepressible New Haven guitarist Robert Messore paid a return visit to Profiles in Folk and also introduced us to Shawn Persinger, a fellow guitarist who last year relocated to Connecticut from Virginia.
Shawn Persinger, also a singer-songwriter, plays in a neo-John Fahey style he calls "modern primitive guitar." He's recorded two solo albums of his music which blends folk with more avant-garde sounds and spends his summers teaching at the National Guitar Workshop.
Robert Messore is a well-known player from New Haven who has recorded several albums of his guitar work and is also the proprietor of St. John's Coffeehouse in New Haven.
Their appearance was partially to promote Robert's upcoming show at St. John's, at which Shawn will be one of eight guitarists making guest appearances.
We intended to do only the first hour of the show, but it was such a pleasure having two fine guitarists in "my radio living room" trading notes and tips and offering advice to young guitarists that we rolled right through the second hour as well. Grace notes once again to Paul Litwinovich, WSHU's chief engineer, who mixed the sound and kept us all sane.
LIVE FROM STUDIO A!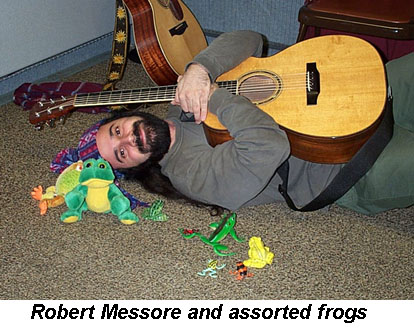 Hear the show

Robert Messore & Shawn Persinger Live In WSHU's Studio A
Persinger: "Fact Totem Pole"
Persinger: "Blood Jokes"
Messore: "The Eccentrics' Hoedown"
Persinger: "It Rains A Lot"
Messore: "Sleepy Time Rag"
Persinger: "Always In The Snow"
Messore: "Voila, Nadine"
Persinger: "Water For China"
Messore: "Take It From Dave Parker"
Persinger: "Halloween Or Easter"
Messore: "Northern Hospitality"

How to Reach Them
Shawn Persinger: www.persingermusic.com
Robert Messore: www.rmguitar.com