Our first in-studio show of 2003 and it's a fine one with Michelle Rubin and Rick Gedney, performing collectively as Open Book, and multi-instrumentalist Dan Bonis. They have been doing a series of "songwriter in the round" concerts, including one coming up in nearby Greenwich, along with Jerree Small, a Minnesota singer-songwriter who's now making her home in Northampton, Mass.
Open Book blends beautiful harmonies, skilled songwriting and nifty guitar playing to create wondrous music. And they've only been at it for three years. Open Book's debut album "Out of Time" came out last summer. They can be reached at www.openbookmusic.com
Dan Bonis is well known in the greater New York-Connecticut folk scene as a premier sideman, but he's also working on his solo debut album. He brought in a dobro, a 12-string slide and a lap steel to treat us to truly ethereal and mysterious music. Accompanying Dan to the studio was Terri Karpin, his partner, who is known to Profiles in Folk fans as "Terri the Wedding Cake Baker" because she is a faithful listener up in Redding on Friday night as she bakes cakes for Saturday weddings.
A big flourish of musical notes to Abe Lettelleir, WSHU's assistant engineer, who made all the good sound emanating from your radios possible.
We closed out the show with some cuts from Sparky and Rhonda Rucker who will be making a too infrequent appearance in the region this weekend.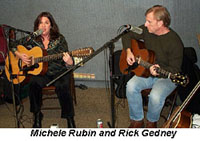 Listen to the entire show, January 10, 2003

Live In WSHU's Studio A: Open Book & Dan Bonis

All: "Downstream"
Open Book: "Indiana"
Dan Bonis: "Delivering The Cake"
Open Book: "Falling"
All: "Waterfall"
Jerree Small, "57 Chevy", Sleeping Giant, Independent
All: "Let It Rain"
Open Book: "Safe And Sound"
Rick Gedney & Dan Bonis: "Sportin' Life"
Dan Bonis: Live preview of album in progress

Conclusion
Sparky & Rhonda Rucker, "Glory Hallelujah Suite", "There Is A Fountain Filled With Blood", The Blue And Gray in Black And White, Flying Fish