Studio A was jumping this night as we welcomed ShoreGrass, a five-piece bluegrass band from Connecticut's Branford-New Haven area. The group has been together for just over three years and last year released their debut CD, In Connecticut. The band began before that as the husband-wife duo of Frank and Barbara Shaw, who play banjo and guitar respectively. It expanded into a traditional bluegrass band with Paul Pozzi on mandolin, Larry Rothermel on fiddle and Louis Audette on upright bass.
As the playlist indicates, they play an interesting mix of old-timey and bluegrass standards, folksongs and original pieces. They can be reached via e-mail at shoregrass@snet.net or on the Web at http://pages.cthome.net.the.shaws/shoregrass/htm
Mixing all the sound was WSHU Chief Engineer Paul Litwinovich.
We finished off the night with some tracks from the debut album of Big Apple'achia, another Connecticut bluegrass band that will be joining us in Studio A on April 11 and then short tributes to Tommy Thompson and Buzz Busby, both of whom died recently.
Thompson was the founder of the renowned Red Clay Ramblers. Sadly, he was forced to retire from the band in 1994, suffering from an Alzheimer's-like dementia, the complications of which took his life.
Busby was a founding father of the Washington, D.C., bluegrass scene. A Louisiana native who made his home in the Washington area since 1951, Busby was described by American music scholar Dick Spottswood as one of three mandolin players who had truly distinctive styles. The other two were Bill Monroe and Jesse McReynolds!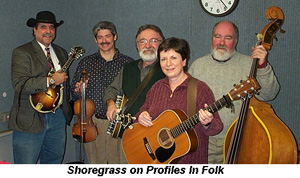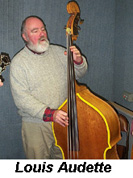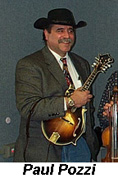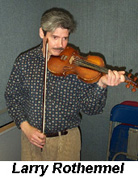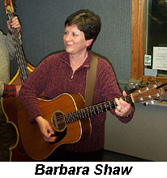 Listen to the show, February 07th, 2003

ShoreGrass Live In WSHU's Studio A
"Oh Susanna"
"Lonely Tombs"
"Have Someone Play Dixie"
"Last Old Shovel"
"Connecticut Waltz"
"Jordan"
"Against The Tide"
"Hold On To Watcha Got"
"Way Down Deep"

Artist, "Title", Album, Label

Big Apple'achia, "Can't You Hear Me Calling", "Sweet Thing", "Not A Word From Home", "She's

More To Be Pitied", Big Apple'achia, Independent,

---------------

Red Clay Ramblers, "Cotton-Eyed Joe", "One Rose/Hot Buttered Rum", Rambler, Sugar Hill

Red Clay Ramblers, "Merchant's Lunch", Merchant's Lunch, Flying Fish

---------------

Buzz Busby, "Long Black Limousine", "Heaven Is My Home", A Pioneer Of Traditional Bluegrass