Big Appleachia's mission is "to bring the simplicity of a bygone era … to the uninitiated urban audience of the present" and, boy, these guys sure can pick and sing great bluegrass and old-time mountain music. We spent some 75 minutes with them Live in Studio A as they ripped through a fine selection of songs ranging from the Stanley Brothers to Buzz Busby and talked about their musical careers and their now one-year-old group.
Big Appleachia is Nick Novia on guitar and vocals; Andrew Cartoun (aka Stony Lonesome) on banjo; Bob Mavian on mandolin; Joe DeLillo on bass, and Pete Elegant on fiddle. Pete couldn't make the trip up to the WSHU studios from New York City because of a work commitment.
The group has one album available and can be reached at www.bigappleachia.com
A big tip of the hat to Abe Lettelleir, WSHU's assistant engineer, who mixed the sound for the live portion of the show.
Live In WSHU's Studio A:

"Big Appleachia Theme song"
"I Hear A Choo Choo Coming"
"Watson Blues"
"Our Last Goodbye"
"Don't Leave Me Alone"
"Bluegrass Breakdown"
"Heaven Seems So Near"
"I'd Worship You"
"Just Another Old Dog In The Race"
"Waitin' To Hear You Call Me Darlin'"
"Lonesome Night"
"I Love You Sweetheart) Hey Hey Hey"
"Shenandoah Breakdown"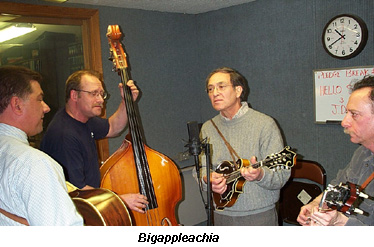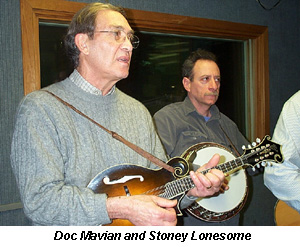 Listen to the live portion of the show
We finished up the show with selections from new albums from James Reams and Walter Hensley and Lynn Morris and a few cuts of classic bluegrass from Smithsonian/Folkways. Keep Lynn Morris in your thoughts and prayers. She recently suffered a stroke and is on the road to recovery.
Artist, "Title", Album, Label

James Reams & Walter Hensley, "Who's Going Downtown", "Crossing Jordan", "Brush Arbor", "Walking In Old-Time Religion", James Reams

---------------

Lynn Morris Band, "Lonesome Highway Blues", "I Wish It Would Rain", Shape Of A Tear, Rounder

---------------

Bill Monroe & The Bluegrass Boys, "When He Reached Down His Hand For Me", Classic Bluegrass From Smithsonian/Folkways, Smithsonian/Folkways

Snuffy Jenkins, "Cumberland Gap", Classic Bluegrass From Smithsonian/Folkways, Smithsonian/Folkways

Lilly Brothers & Don Stover, "Neath That Cold Grey Tomb Of Stone", Classic Bluegrass From Smithsonian/Folkways, Smithsonian/Folkways
How To Reach Them:
www.bigappleachia.com