This was pledge night for Profiles in Folk in WSHU's spring pledge drive. In this special edition of Profiles which also marked the 30th anniversary of the show, joining us in the studio for a live performance and a good bit of pitching for funds was old friend Mike Kachuba, Connecticut's 1996 State Troubadour, a former member of the Ask Creek String Band, solo performer and teacher. Also making pitches was another good friend, WSHU Chief Engineer Paul Litwinovich, the "man behind the glass" for most of Profiles in Folk's "Live In Studio A" performances.
In addition to performing several selections live, Mike also brought in an advance copy of his forthcoming CD, "The Fisher Boy". We previewed some selections and discussed the album.
Again, our sincere thanks to all those listeners who made pledges during the show and became part of the WSHU/WSUF family.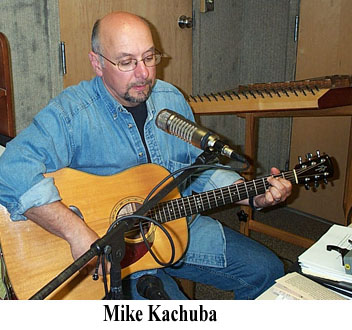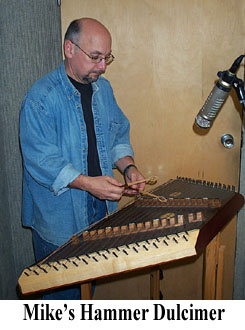 We've edited out over an hour of fundraising as a bonus to our web listeners but left just enough to remind you that your support for the program is vital to allow us to continue to bring shows like Profiles via the radio and on the web. Please help us continue this endeavor by pledging on line
Mike Kachuba Live In WSHU's Studios
Live: Hammered Dulcimer Medley
-----------
Mike Kachuba, "The Fisher Boy", "Trout Pool", The Fisher Boy (pre-release), independent
----------
Live: "Lay Down Your Heart"
Live: "Rose Of Sharon"
----------
Mike Kachuba, "Goody Bassett", "Genuine Jasper", from It Happened In Connecticut CD, independent label
----------
Live: "He Took To The Skies"
----------
Mike Kachuba, "Waiting For The Day Of Their Release/Off To Sea", from The Fisher Boy CD, independent label
----------
Live: "Three Jigs For James"
----------
Live: "Bread And Salt"
Mike Kachuba can be reached at 203-380-2080 or via e-mail