Another live music treat. We welcomed to WSHU's Studio A singer-songwriters Sloan Wainwright for her first visit and Cadence Carroll for a return visit. Sloan and Cadence were appearing the next night at Bridgeport's Acoustic Café. Cadence was opening the show and then playing as a member of the Sloan Wainwright Band.
Sloan Wainwright's music is truly original and difficult to categorize. Her rich contralto voice is mesmerizing. Cadence is well known for her percussion talents, but since releasing her first full-length CD a few years back she's been establishing a solid solo career as well.
Their 75-minute appearance included an animated and wide-ranging conversation on topics such as song writing, vocal styles, performance art, Sloan's new album "Cool Morning", old-time music and even a bit from Sloan about older brother Loudon, nephew Rufus and niece Martha.
The remainder of evening featured offbeat music from new albums by three bands.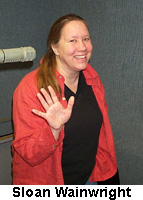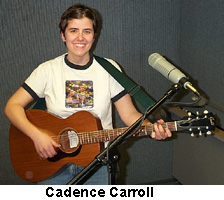 Listen to the live portion of the show
Live In WSHU's Studio A: Sloan Wainwright & Cadence Carroll
Live: "We're All Made Of Rain"
CD/Sloan Wainwright, "Where The Streets Have No Name", Cool Morning, Independent
Live: "Cool Morning"
Live: "I Awake"
Live: "Evolve"
Live: "When I Walk Away"

Artist, "Title", Album, Label

---------------

Wake The Dead, "Uncle John's Band", "Ripple", Buckdancer's Choice, Redwing

Sloan Wainwright, "Box Of Rain", Sloan Wainwright, Waterbug

---------------

Mozaik, "My Heart's Tonight In Ireland/Robinson County/The Trip To Durrow", "Sandansko Oro/Mechkin Kamen", Live From The Powerhouse, Compass

--------------

Occasionals, "Flowers Of Edinburgh", "Maggie Mae", Reel Of Four, Greentrax