Featuring: Terence Martin & Dan Bonis followed by Andrew McKnight
With baseball in the air, this program was the equivalent of a musical doubleheader.
For a good portion of the first hour, we welcomed the return of singer-songwriter Terence Martin of Westchester County, N.Y. and multi-instrumentalist Dan Bonis of Redding. During the second hour, singer-songwriter Andrew McKnight from the Shenandoah Valley of Virginia (who grew up in Connecticut) stopped in for his first visit to Profiles in Folk and WSHU.
Dan was celebrating the release of his first CD, "Delivering The Cake", the following night at Molten Java in Bethel, while Andrew was on a short tour of the Northeast, including two Connecticut dates. We ended each interview and live music with selections from their latest CDs.
Our engineer for the evening was WSHU's Asst.Engineer Abe Lettelleir.

Listen to the show
Live In WSHU's Studio A: Terence Martin & Dan Bonis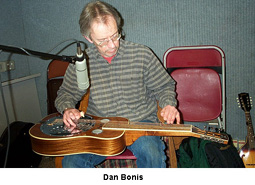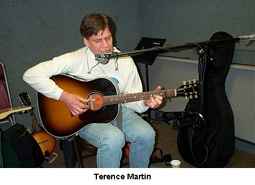 Terence & Dan: "Augustine Creek" Dan: "Waterfall"
Terence w/ Dan: "Sleeper On A Westbound Train"
Terence Martin, "The Way It Didn't Go", Sleeper, Good Dog Music
Dan Bonis, "Delivering The Cake", Delivering The Cake, Independent
----------------
Live In WSHU's Studio A: Andrew McKnight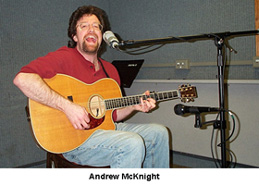 "Wishing"
"Western Skies"
"Beyond Borders"
From their CDs:
Artist, "Title", Album, Label

---------------

Andrew McKnight, "Diary", Turning Pages, Falling Mountain Music

Andrew McKnight, "The Road To Appomattox", Turning Pages, Falling Mountain Music

----------------

Dan Bonis, "Scotland", "Koana Mona", Delivering the Cake, Independent

----------------
How To Reach Them: