A live music doubleheader: The original bluegrass and swing music of Too Blue in the opener and the original songs with a nod to tradition of Bridgeport's own Liam Bailey in the nightcap. It was a home run of a night at Profiles in Folk. Our scorekeeper for sound: WSHU Chief Engineer Paul Litwinovich.
Too Blue is a New York/Connecticut quartet that features original and traditional bluegrass, a bit of western swing and 1950s country, and a dash of jazz and blues. Too Blue is Joan Harrison on banjo; Betsy Rome on guitar; Michael Sassano on mandolin and Jack Murphy on bass. Their debut album is "A Little On The Blue Side." Check them out at www.toobluemusic.com
Liam Bailey is an original songwriter and multi-instrumentalist who is also well backgrounded in Celtic, old-time and bluegrass. His just-released debut album is simply "Liam Bailey." He was joined in the studio by Chad Kelly on harmonium; Brian Sargent on guitar; and Steve Combs on bass. Check him out at www.liambaileysite.com
Both groups had appearances the following night within on broadcast area. We also tucked into the evening some music from two other bluegrass groups that are old friends to Profiles in Folk and "Live In WSHU's Studio A" series that will be appearing with Too Blue.

Listen to the show
Live In WSHU's Studio A: Too Blue
TOO BLUE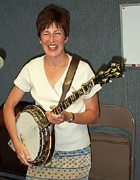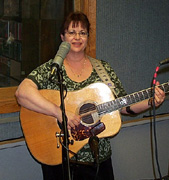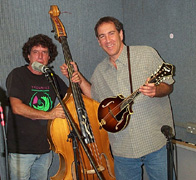 Betsy Rome - guitar vocals, Joan Harrison - banjo, lead vocals, Jack Murphy - bass, vocals, Michael Sassano - mandolin