We welcomed to Profiles in Folk for the first time singer-songwriter Susan Kane of Westchester County, N.Y. We spent a delightful hour with Susan, whose debut album "So Long" certainly will establish her name in singer-songwriter ranks and on the acoustic music circuit. She's unusual because she has a deep knowledge and love for the "old songs" that are at the heart of folk music as well as for contemporary compositions. The discussion ranged from her early folk influences to how she developed as a performer and songwriter (she spent 20 years in banking!) to her fascination with songs that appear in literature.
Susan can be reached at www.susankane.com
We finished the evening with selections from three other stellar singer-songwriter albums. All three performers share connections and collaborations with each other on the three albums.

Listen to the show
Live In WSHU's Studio A: Susan Kane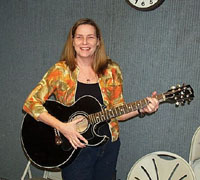 "A Long Time Ago"
"Kesey"
CD: "If You Were Paper" on So Long
"Rebekah"
CD: "Chicory Blue" on So Long
"The Tale Of Misses"

Artist, "Title", Album, Label

----------------

Jonathan Byrd & Dromedary, "True Companion", "The Young Slaver", "The New World", The Sea & The Sky, Waterbug

---------------

Chris Proctor, "David And Marie", "Two People", "Deeper Than My Own Name", The Holy Fool, ISG Records

---------------

David Morreale, "Angel Of The Road", "Different By Now", From The Dirt, Mudluscious Records