First Hour: Live In WSHU's Studio A: Damien Connolly & Sally Tressler Connolly Second Hour: A Tribute to Dear Old Dad
We welcomed back to WSHU Public Radio for our first hour the wonderful duet of All-Ireland accordion and melodeon player Damien Connolly and his spouse, Irish flute player Sally Tressler Connolly. Singer Michael McCann, who has appeared on "Profiles in Folk" several times and just happens to be Sally's uncle, joined them! Damien and Sally performed several live pieces and Michael discussed the upcoming Connecticut Irish Festival, Feis & Agricultural Fair in North Haven, at which Damien and Sally will also be performing along with Liz McNicholl. WSHU Chief Engineer Paul Litwinovich mixed the sound for the evening's festivities.
For the second hour, in observance of Father's Day this coming Sunday, we offered a musical tribute to Dear Old Dad in several ways: Tunes and songs about specific fathers, a "fathers and sons" set, and songs from father's about their children.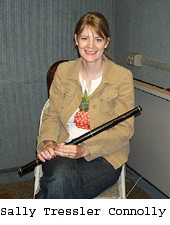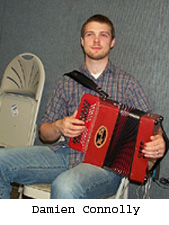 Listen to the live portion of the show

Damien & Sally Tressler Connolly Live in WSHU's Studio A:
Live: "Miss MacLeod/ Dunmore Lasses"
Live: "Joe Derrane Set"
CD: Uillean Piper Brian McNamara, "Air"

Live: "Set of Frankie Galvin Tunes"
CD: Songstress Liz McNicholl, "The Bravest"

Live: "First House in Connaught Set"
Live: "Medley of Celtic Tunes"
Second Hour: Tribute to Dear Old Dad
Artist, "Title", Album, Label

New Lost City Ramblers, "Train 45", Classic Railroad Songs, Smithsonian Folkways

Peter Rowan & The Red Hot Pickers, "Hobo Song", Peter Rowan With The Red Hot Pickers, Sugar Hill

---------------

Sonny Terry/Woody Guthrie/Cisco Houston, "Lonesome Train", Classic Railroad Songs, Smithsonian

Folkways, , ,

Utah Phillips, "Daddy What's A Train?", Good Though!, Philo

Gove Scrivenor, "I've Got A Thing About Trains", Shine On, Compass

Fred Eaglesmith, "I Like Trains", Freight Train Blues, Rounder

Kate Campbell, "Trains Don't Run From Nashville", Freight Trains Blues, Rounder

---------------

Unknown, "Calling Trains", Railroad Songs & Ballads, Library of Congress/Rounder

Seldom Scene, "Big Train (From Memphis)", Long Time, Smithsonian Folkways

Tom Rush, "Panama Limited", No Regrets, Columbia

Stanley Brothers, "Orange Blossom Special", Appalachian Stomp, Rhino

Steve Goodman, "City Of New Orleans", Mystery Train, Rounder

---------------

Koerner/Ray/Glover, "Southbound Train", [Lots More] Blues Rags & Hollers, Elektra/Red House

Utah Phillips, "Queen Of the Rails", "Frisco Road", Good Though!, Philo

Scott Brannon, "Hobo Bill's Last Ride", Freight Train Special, Wango Records

Tom Russell, "Lord Of The Trains", Steel Rails, Rounder

Don Lange, "Here's To You Rounders", Same River Twice, Independent

---------------

Palmer McAbee, "McAbee's Railroad Piece", Train 45, Rounder

Roy Acuff, "Wabash Cannonball", Steel Rails, Rounder

Woody Guthrie & Cisco Houston, "John Henry", Classic Railroad Songs, Smithsonian Folkways

Johnny Cash, "Casey Jones", Mystery Train, Rounder

Otis Mote, "Railroad Bill", Virginia Roots, Outhouse Records

Pete Seeger, "Hobo's Lullaby", A Link In The Chain, Columbia