First broadcast November 20, 2009
An evening with Anne Marie Menta and Dick Neal
10 p.m. to Midnight Host: Steve Winters
"Profiles in Folk" welcomed back to our studios New Haven area singer-songwriter Anne Marie Menta, who will be releasing her third album, the first in five years, this weekend. She was accompanied in the studio by Dick Neal, well-known Fairfield County producer and multi-instrumentalist, who produced the album.
"Seven Secrets" continues Anne Marie's career of melodic, honest and strong songwriting. We discussed the making of the album with Anne Marie and Dick, the growing art of her songwriting and her 10-year adventures since the release in 1999 of her debut album, "Untried and True." You can find out more about Anne Marie at www.annemariementa.com
I finished up the night with selections from Canadian singer-songwriter John Wort Hannam, who will be appearing in our broadcast area, and from new albums by John McCutcheon and Jack Hardy.
Once again, a tip of the hat to WSHU Chief Engineer Paul Litwinovich who mixed sound for the evening.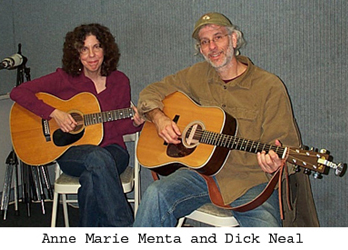 Listen to the live portion of the show:


with RealPlayer


With Windows Media Player
Playlist, Anne Marie Menta Live in WSHU's Studio A:
On CD, "Eternity", Seven Secrets, Prime Number Productions
Live: "(Bare Bones of My) Empty Heart"
Live: "That's My Sister"
On CD, "Might Tell You", Seven Secrets, Prime Number Productions
Live: "Front Door"
Live: "Got To Know"
The remainder of the show:
Artist, "Title", Album, Label
---------------

John Wort Hannam, "Dynamite And 'Dozers", "The Ballad Of Nellie And Joe", "Cracked Hands", Dynamite And 'Dozers, Independent
---------------

John McCutcheon, "Long Long Road To Home", "Old People In Love", "Boys In Green", "Different", Untold, Appalsongs
---------------

Jack Hardy, "Soundtrack", "Rye Grass", Rye Grass, Great Divide Records