We welcomed fiddler Bill Christophersen and banjoist/guitarist/mandolinist John Saroyan — known collectively as The Manhattan Valley Ramblers — to WSHU and "Profiles in Folk" for two hours of excellent old-time and bluegrass music and an educational primer for listeners on old-time music and its history that ranged from the landmark recordings of Arthur Smith to the recent passing of Ray Alden and Mike Seeger.
The Manhattan Valley Ramblers, much of whose repertoire is culled from the classic "brother duets" of early country music, began in 2006 in New York City, but the duo has just released their debut album, "Ballads and Barnburners" on Crusty Scone Records (Manhattan Valley Ramblers@gmail.com).
Bill Christophersen is a veteran of New York City's old-time music scene and has played and recorded with groups such as The Fly-By-Night-String Band, The Lazy Aces String Band and The Mysterious Redbirds. He recently released a critically-acclaimed album of solo fiddle work, "Hell & High Water."
John Saroyan, a native of California, spent several years in New Orleans while in medical school playing with Hazel and the Delta Ramblers and making musical forays into Appalachia. He has a solo album to his credit, "Live and Pickin' In New Orleans".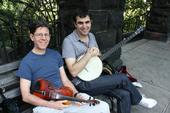 The Manhattan Valley Ramblers (John Saroyan and Bill Christophersen) join Steve tonight for an evening of Blue Grass and Old Timey music.
Listen to the live portion of the show:


with RealPlayer


With Windows Media Player
Live in Studio A:
"Wayside Tavern" (Stanley Brothers)
"The Fields Have Turned Brown" (Stanley Brothers)
"Gray Eagle Jig" (Ed Haley)
"Hell Broke Loose In Georgia" (Gid Tanner & The Skillet Lickers)
"Midnight On the Stormy Deep" (Ernest Stoneman)

From CD:
Artist, "Title", Album, Label

----------

Bill Christophersen: Two Fiddle Tunes — "Sally In the Garden"/"Hell Among The Yearlings"

----------

The Manhattan Valley Ramblers, "My Baby's Gone", Ballads and Barnburners, Crusty Scone Records

----------

John Saroyan, "Hazel The Delta Rambler", "Bonaparte Crossing The Rhine", Live And Pickin' In New

Orleans, Independent, ,

Bill Christophersen, "Beaumont Rag", "Crockett's Honeymoon", Hell & High Water, Independent

----------
Live in Studio A:
"Childish Love" (Louvin Brothers)
"Whistlin' Rufus" (Arthur Smith)
"Lonely Moon" (Stuart Duncan)
"Blue Mountain