10 p.m. to Midnight Host: Steve Winters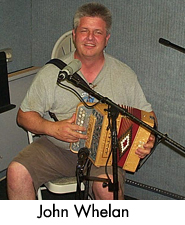 We welcomed back to "Profiles in Folk" John Whelan, our good friend and seven-time All-Ireland button accordion champion, who was just voted the Top Button Accordion Player in a poll conducted by the Irish Music Association. John has several shows this week in the WSHU Public Radio listening area and it gave us the opportunity for nearly 75 minutes to discuss his latest musical ventures and treat listeners to his immensely talented button accordion playing live from our studios. He's also celebrating in 2010 40 years in the music business and 30 years since he immigrated to the United States.
Recordings from three selected performers who are also appearing in our broadcast area this weekend were sandwiched around "John Whelan: Live in WSHU's Studio A".
Listen to the live portion of the show:


with RealPlayer


With Windows Media Player
Artist, "Title", Album, Label

Grada, Abe's Axe, Natural Angle, Compass
---------------

Tom Kimmel, Shallow Water, Hardline, Never Saw Blue, Point Clear
---------------

Jana Stanfield, Little Red Book, The Trick Is To Learn To Enjoy The Ride, I'm Not Lost/I'm Exploring, Relatively Famous Records
---------------

Grada, The Butcher Boy, Natural Angle, Compass
---------------

John Whelan: Live In WSHU's Studio A

Live: "The Red-Haired Lass/Paddy O'Brien's/The Scholar"
Live: Unnamed jigs medley


Maria Fairchild with JW, Celebration, Celebration, Ampersand
Live: "Trip To Skye"

Mater Dea with JW, Another Trip To Skye, Italian recording,
Live: "Kiss Me Kate/Floggin' Reel"

---------------


Grada, Salthill Bugalu, Natural Angle, Compass