I welcomed back for their third consecutive summer appearance on "Profiles in Folk," Mark Lemaire and Twilight (Twilight being Cindy van Empel). They hail from the San Francisco Bay area and were making their annual visit to the East Coast to visit family and friends and perform a short tour of intimate concerts.
Their music features Mark's exquisite and sensitive guitar playing, their sophisticated original songs and arrangements and plenty of heavenly harmonies. They graced us with their music at a taping two days before this program aired.
Two events made this year's visit to WSHU Public Radio extra special: One, Mark and Cindy had just gotten married in Vermont the previous Friday in a surprise wedding for family and close friends and, two, this year they carried with them their first album together as Mark Lemaire & Twilight entitled "Home Isn't Home". Mark had previously two solo albums.
Music from other duos in the opening and closing half hours complemented the "Live In Studio A" visit.
Thanks still once again to WSHU Chief Engineer Paul Litwinovich for mixing the studio sound and final editing for this program.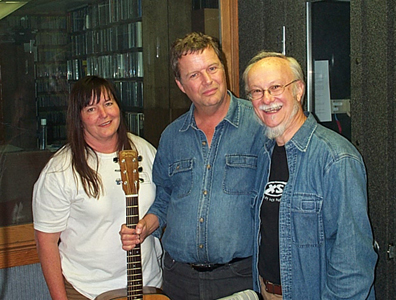 Cindy van Empel, Marl Lemaire, and host Steve Winters in Studio A.

Listen to the live portion of the show via MP3 stream
Artist, "Title", Album, Label

David Grisman Quintet, "Barkley's Bug", Dawganova, Acoustic Disc

---------------

Cathy Fink & Marcy Marxer, "Dark Eyes", Rockin' The Uke, Community Music

The Hula Honeys, "Kawaipapa", "Ne'ene'e Mai A Pili", A Hui Hou, Community Music

Cathy Fink & Marcy Marxer, "Bye Bye Blackbird/Red Red Robin Medley", "Snowdrop", Rockin' The Uke, Community Music

---------------

Mark Lemaire & Twilight Live In WSHU's Studio A"

Live: "Deepest Secret"

Live: "Zanzibar Sands"

---------------

CD: "Lake Of the Coheeries", Home Isn't Home, Rubato Recordings,

---------------

Live: "Lover's Guarantee"

Live: "Dedication"

Note: End of live show.

---------------

Pharis & Jason Romero, "Sad Old Song", "I Want To Be Lucky", Long Gone Out West Blues, Lula

---------------

Anais Mitchell & Jefferson Hamer, "Sir Patrick Spens", "Clyde Waters", Child Ballads, Independent

---------------

Red Tail Ring, "Ladies' Choice Waltz", The Heart's Swift Foot, Earth Work Music